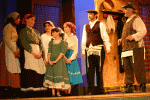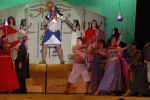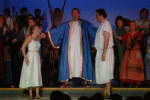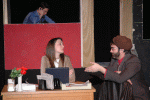 MCTP

Jewish Federation Theatre

698 Beech Street, Manchester, NH  03104

603-627-7679


Deadline

An Original Play by Tom Anastasi

Friday, April 14 at 7:30 p.m.

Saturday, April 15 at 7:30 p.m.

Spaulding Center for the Arts at Pinkerton Academy

Production Crew

Alan D. Kaplan, Director

Steve Short, Stage Manager

Matthew Cahoon, Technical Director

Alyssa Dillon, Sound engineer

Mary Selvoski, Costumer

Tom Anastasi, Producer

Cast

Peter Erikson                   Scott Katrycz

Tracy Kaplan                    Gina Carballo

Mark Cliffs                        Dan Merriman

Joe Downing                     Seth Thompson

Rebecca Bennett              Katie Anastasi

Stepan Ostervitch             Patrick Sawicki

Russian Guard                 Raymond Caron

Maggie Schillingsworth      Michelle Bosse

Captain O'Toole                Tom Anastasi

Haley Saisi                      Lauriel Faltin

Reporter                          Susan LaBrie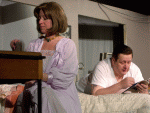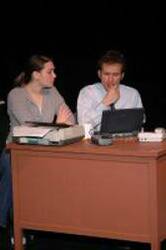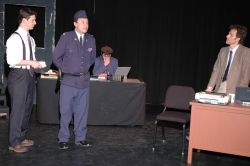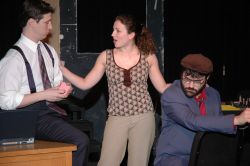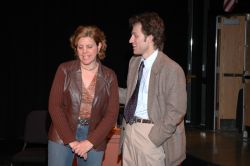 Synopsis

Deadline, Tom Anastasi's new play, follows a newspaper reporter (played by Dan Merriman) working in Boston in a Presidential election year and an unpopular sitting President who tries to capture the 'rally-round-the-flag effect.'  Knowing that strong Presidents never lose second-term elections in times of war, he tries to create a crisis by convincing the country it is under atttack by UFOs.  When the public rejects that argument, events escalate into violence and the threat of nuclear strike.  The reporter,

meanwhile, races to discover who and what are involved before it's too late.    

The unique opening of Deadline provides the audience a step ahead of

the characters in understanding the plot.  The tedium of the day to day

quest for stories which will sell newspapers is interrupted by an initially

hard to believe but possible set of circumstances that have relevance in

our modern day world.